How to Sell a Condemned Home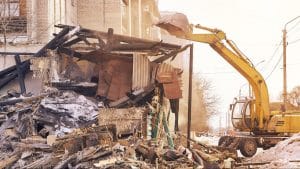 Selling a condemned home can be a challenging endeavor, but it doesn't have to be an overwhelming one. If you find yourself in a situation where your house has been deemed unsafe to live in, there are several important criteria to consider when selling your property efficiently and effectively.
In this article, we will guide you through the process of selling a condemned home, focusing on Sell My House Fast Columbus as a solution. Additionally, we'll explore key criteria that play a significant role in selling a condemned home.
Condition of the Property
The condition of the condemned property is a crucial criterion when selling a home. Assess the extent of the damage and the required repairs. Is the damage limited to cosmetic issues, or are there structural problems? Understanding the level of repair needed will help determine the selling strategy. If the cost of repairs is extensive, it may be more beneficial to consider selling the property "as is" or to a cash home buyer.
Legal and Safety Considerations
When dealing with a condemned property, it's essential to understand the legal and safety implications. Familiarize yourself with the local building codes and regulations. Contact your local housing authority to gain a clear understanding of the condemnation process and any requirements for selling a condemned property. Ensure that you comply with all necessary legal obligations and address any safety concerns to streamline the selling process.
Cost of Repairs
One crucial criterion when deciding how to sell a condemned home is the cost of repairs. Determine the expenses associated with restoring the property to a habitable condition. Obtain professional estimates from contractors or specialists in relevant areas such as plumbing, electrical work, roofing, and structural repairs. Compare these estimates with the potential increase in property value after repairs. If the costs outweigh the potential profits, you may consider selling the property "as is" or to a cash home buyer.
Time Frame
Consider the time frame within which you need to sell the condemned home. Selling a property traditionally through a real estate agent can take months, especially if the property requires extensive repairs. If you need a fast sale, working with a cash home buyer like Sell My House Fast Columbus can provide a quicker solution. Cash buyers often offer a streamlined process, allowing you to sell the condemned home and close the sale promptly.
Market Demand
Evaluate the market demand for condemned homes in your area. Research the local real estate market to determine whether there is a viable market for selling a condemned property. Identify any trends or buyer preferences in your area. Understanding the demand for condemned properties can help you set realistic expectations and develop a suitable selling strategy.
Selling Costs
Consider the costs associated with selling a condemned home. When selling through traditional methods, you may have to factor in real estate agent commissions, closing costs, and potential expenses for marketing and advertising. These costs can significantly impact your overall profitability. Alternatively, working with a cash home buyer eliminates the need for real estate agents and their associated commissions, saving you money.
Buyer Perception and Financing Limitations
Understand that selling a condemned property through traditional channels may present challenges due to buyer perception and financing limitations. Many potential buyers may be hesitant to invest in a condemned property, requiring you to offer a significant discount to attract interested parties. Additionally, obtaining financing for a condemned property can be difficult, as lenders often require properties to be in a habitable condition. These factors may prolong the selling process and affect the final sale price.
Sell My House Fast Columbus: Your Trusted Partner
Sell My House Fast Columbus specializes in buying houses in any condition, including condemned properties. We understand the challenges homeowners face when selling a condemned home and offer a hassle-free selling experience. Our experienced team provides fair cash offers and a swift closing process, allowing you to sell your condemned house quickly and conveniently.
Selling a condemned home requires careful consideration of various criteria. By evaluating the property's condition, legal and safety requirements, repair costs, timeframe, market demand, selling costs, and buyer perception, you can make an informed decision about the best selling strategy. 614 Home Buyers offers a convenient solution for homeowners looking to sell their condemned homes quickly and with ease. Reach out to us today to experience a hassle-free selling process.
Call 614 Home Buyers to Sell Your Condemned House Today
When it comes to selling a condemned house, time is of the essence. Contact us today at 614 Home Buyers or call 614-567-5050 for a fair cash offer and a quick closing. Experience a stress-free and efficient way to sell your condemned home. 
Don't wait! Get in touch now!